At Team Gwen it is our mission to…
Never stop learning
Celebrate wins and recognize the contributions of others
Respond vs React
Bring positivity to every interaction
Achieve success though helping others
Earn trust and honor our commitments
Gwen Swain
Branch Manager | Loan Originator
Gwen Swain is your Financial Fitness Advisor. She has been with Waterstone Mortgage since April 2017, and works mostly with first time homebuyers and families relocating from out of state. Her passion is helping clients achieve the dream of home ownership in the most cost effective way possible to suit their short term capabilities and long term financial goals.
Gwen grew up in Northern Virginia, outside of Washington DC, and graduated with a Bachelor of Science degree from James Madison University in 2006. She then moved to San Francisco where she lived in the Marina District until 2010 when she relocated to San Diego. In 2016, she moved to Eagle, ID where she and her husband bought their first home (with a Waterstone Mortgage :). She has 2 sons, Carter (5) and Cameron (3).
She is anything but a "9-5 Lender" meaning she is happy to work with you on nights, weekends, via text, etc. She understands that in this competitive market you deserve a lender who is ready and willing to work overtime to make your experience as stress-free and smooth as possible. From applying to the loan to closing on the home, she delivers five-star concierge service all the way.
"At the start of the process when I was referred to Gwen, she immediately calmed the nerves I had about the process and answered questions I didn't even think to ask.  Then after we got through the initial hurdles, Kevin and the rest of the Waterstone team made the process a breeze.  Would definitely use them again and refer anybody that asked." Dylan S.
David Hirsch
Loan Partner | Marketing Coordinator
David Hirsch is a Boise State grad (Communication) and is our Loan Partner 1, having previously held a role as a Marketing Assistant with a Top Producing Real Estate Agent here in the Treasure Valley. His experience at the Better Business Bureau makes him a dynamic outbound caller and friendly appointment manager. He also helps in coordinating closing appointments and orchestrating marketing campaigns.
"We cannot express how thankful we are for Gwen's amazing team at Waterstone Mortgage in Eagle! With their expert assistance and guidance along with our amazing realtor, we were able to purchase our first home! They were always just a call, text or email away when we had questions. Thank you so much." Debbie & Bill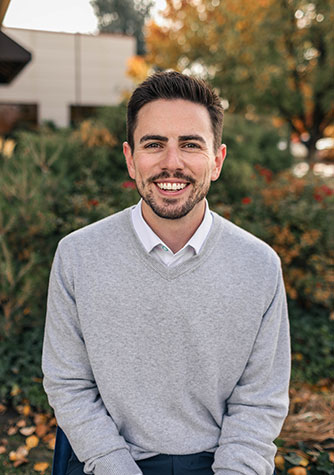 Kevin Goldkamp
Loan Partner II
Kevin Goldkamp, our Loan Partner 2, has 12+ years of customer experience, and project management. Kevin works closely with our processors to manage transactions from "Contract to Closing", and helps streamline the loan process to make it as simple and painless as possible.
"Kevin Goldkamp went above and beyond to ensure that my wife and I were fully informed throughout the refi process. I would highly recommend Waterstone and plan to use them again in future purchases!" Colin C.
Brian Maxwell
Loan Partner III
Brian Maxwell has over 15 years' experience dedicated to customer service in key leadership, management, and sales positions. With a background in Real Estate, Brian understands the home buying & selling process, and his priority is guiding you through the steps of the lending process, in conjunction with your path to buying a home, making the process as smooth and simple as possible to help you reach your goals.
"Brian Maxwell was on top of his, and our game 100%.  The communication, coordinates, and above all, the big picture was always there. Brian made the whole home buying experience as easy as possible. Also when questions arose, he was always there to answer." Rigo R.
Rich Hermsen III
Loan Partner II
Rich Hermsen joined Team Gwen as a Loan Partner II from the world of corporate business analytics in the technology and consumer packaged goods industries. His forte is building relationships with his clients and fostering a smooth and enjoyable lending process.
Rich enjoys exploring the outdoors, jamming on the drums, and playing any sport that is out there (golf is his favorite)! Rich was born and raised in the shadow of Mt. Rainer in Eatonville, WA. After graduating with his Bachelor's of Arts from Western Washington University, he traded coasts for a Category Analyst position in New Hampshire before returning to the west as an Advertising Analyst at Yahoo, Inc in Santa Clara, CA. Rich and his wife started their family in the Bay Area, but moved to Boise in 2019 to raise their kids. He has two daughters, Sienna (5) and Sawyer (2).
As a detail-oriented individual with a solutions-driven mindset, Rich is thrilled to be at Waterstone Mortgage on a team that's dedicated to going above and beyond to meet their client's needs."
"Rich was an exceptional contact within Waterstone. He was always extremely quick to respond and very knowledgeable. If I did have a question that he felt Gwen was better suited to answer (this only happened once, and was likely due to me being a first time home buyer) he was honest about that and arranged a conference call with all 3 of us. Not only was Rich responsive and knowledgeable, but I feel like him and Gwen were both genuinely excited for our family. They would check in on us to see how the house hunt was going and were encouraging. I also never felt pressured by them whatsoever, which helped reduced stress in an already stressful situation. The market being as competitive as it is in Idaho currently; I know our family was not their only customer, but I would not have ever known that. Offer letters were especially important to get quickly, and they were on it. So quick in fact that my agent even mentioned how quick Rich was to respond, which made submitting offers quickly much easier. I credit getting our dream home to Both Rich and Gwen and their incredible service." Ben R.
Kristen Barisoff
Loan Partner | Office Manager
Kristen Barisoff is the Office Manager for Waterstone Mortgage of Eagle, Idaho and is the newest member of Team Gwen.  She comes with 20 years of administrative knowledge and over 10 years of Office management experience in the medical field. She will be answering the phones and pointing clients in the direction of who to speak with as well as keeping the day to day office operations running smoothly. Her end goal is to organize and see people happy.
Kristen was born and raised in Orange County, California and received her Bachelor's Degree at Long Beach State University.  She is married and started her family in Paso Robles, California before moving to Meridian in 2019.  You can find her taking her daughter, Olive (10) to gymnastics and son, Porter (8) to baseball.  When she isn't carting her kids around she enjoys family nights full of music and singing and competitive board games.